Norfolk Glamping
Glamping Bell Tents, Shepherds Huts, Safari Tents & More across Norfolk
Cosy campfires, golden beaches, and happy moments are what mYminiBreak Norfolk Glamping is all about! We have everything you need for your glamping needs, from cosy yurt to picturesque bell tents.
Why not book a romantic stay in a cosy shepherd's cabin set in Norfolk's undulating countryside, or treat yourself to a Glamping Yurt or Glamping Safari Tent experience? Our specially selected locations here at mYminiBreak Glamping in Norfolk are perfect places to relax and enjoy some quality time with friends or family. So why not come and join us for a truly unforgettable experience?
Fancy trying out Glamping but don't know where to start? The perfect place to start is with a trip to the beautiful county of Norfolk and an overnight stay at mYminiBreak Norfolk Glamping.
Situated all over the county, mYminiBreak Norfolk offers Glamping Bell Tents, Shepherds Huts, Safari Tents, Yurts & Teepees to all. We have Glamping locations along the Norfolk Coast in prime locations such as Hunstanton, Holme-next-the-Sea, Wells-next-the-Sea & Cromer, inland we have a wilder location close to Thetford Forest in Oxborough. All of Our mYminiBreak Norfolk Glamping sites offer a chance to camp out under the stars with friends and loved ones, get cosy around a campfire and of course bring your dogs along with you.
Norfolk Glamping offers something different from traditional camping, making it ideal for couples and families alike. All you need to bring are your food & drink and a sense of adventure!
If you're looking for a unique outdoor experience, mYminiBreak Norfolk Glamping is the perfect place to start!
Norfolk, England is a great place to go camping. There are plenty of local options for glamourous camping or Glamping as it is also known. For those who want the convenience and comfort of a hotel room combined with the fun and adventure of camping, our mYminiBreak Norfolk Glamping locations offer the best of both worlds.
mYminiBreak Norfolk Glamping has several great glamping locations to choose from, Hunstanton Glamping is located in Heacham. This spot offers Glamping Bell Tents & Glamping Shepherds Huts, inside they are comfy & cosy with tasteful textiles, outside there is an area with a fire pit, picnic tables, and grills.
Another great choice for glampers is South Beach Camping, Heacham. This spot has Glamping Bell Tents, Pre-pitched blank canvas Glamping Bell Tents, and Shepherd Huts that come equipped with beds, linens, electrical outlets, and lighting. There is also a shared toilet block, glamping kitchen, glampers outside showers, and freshwater taps located on-site.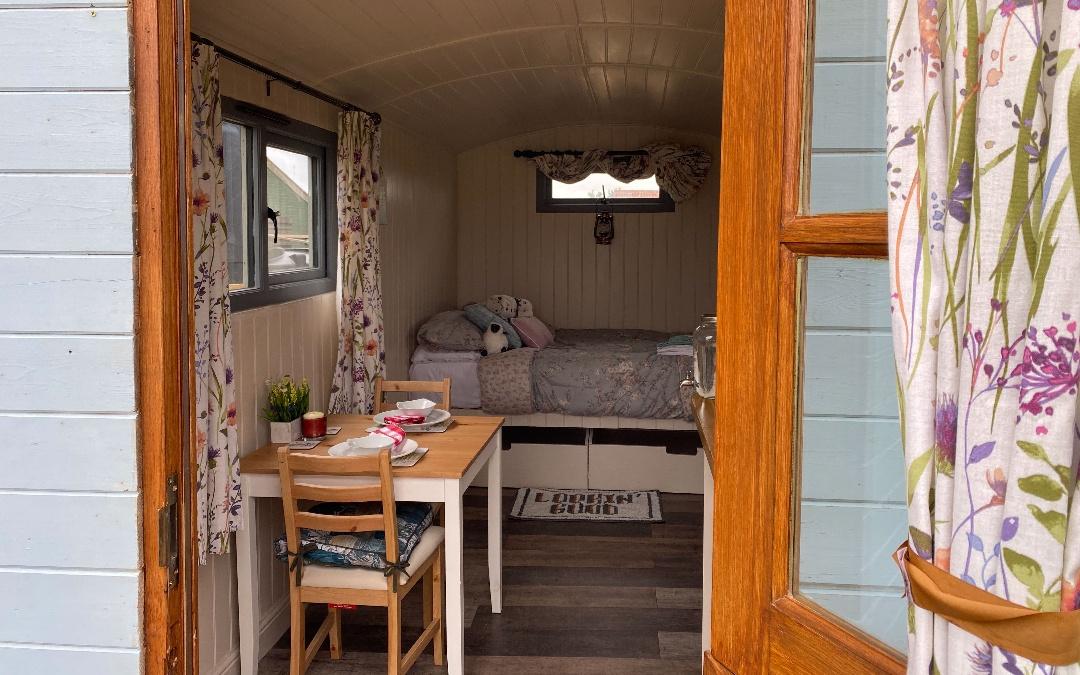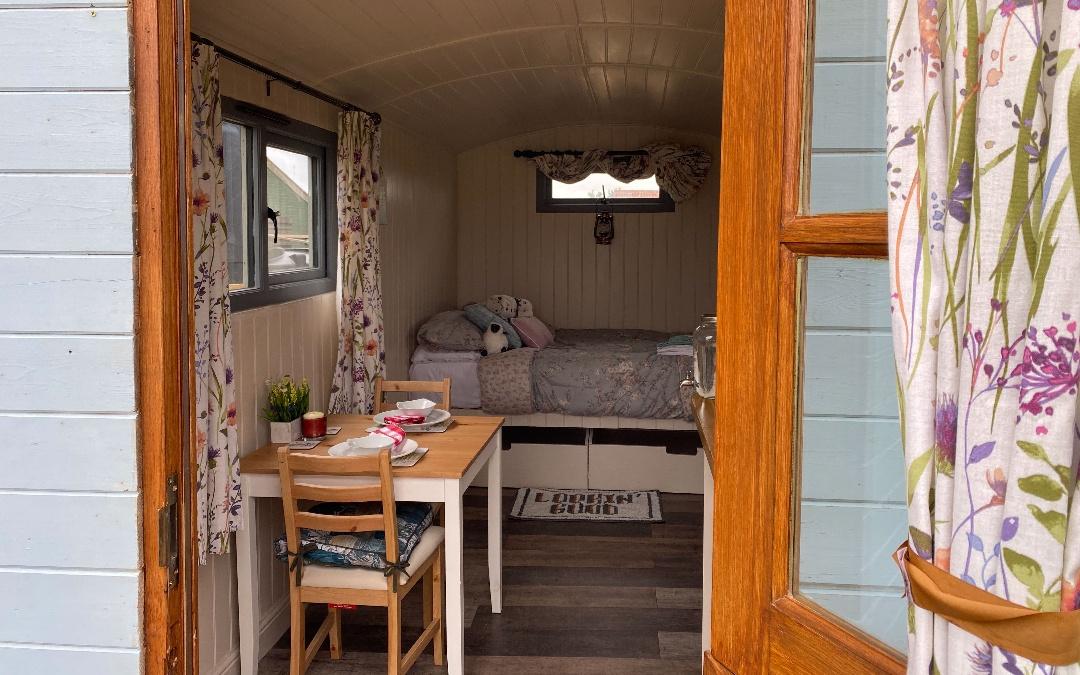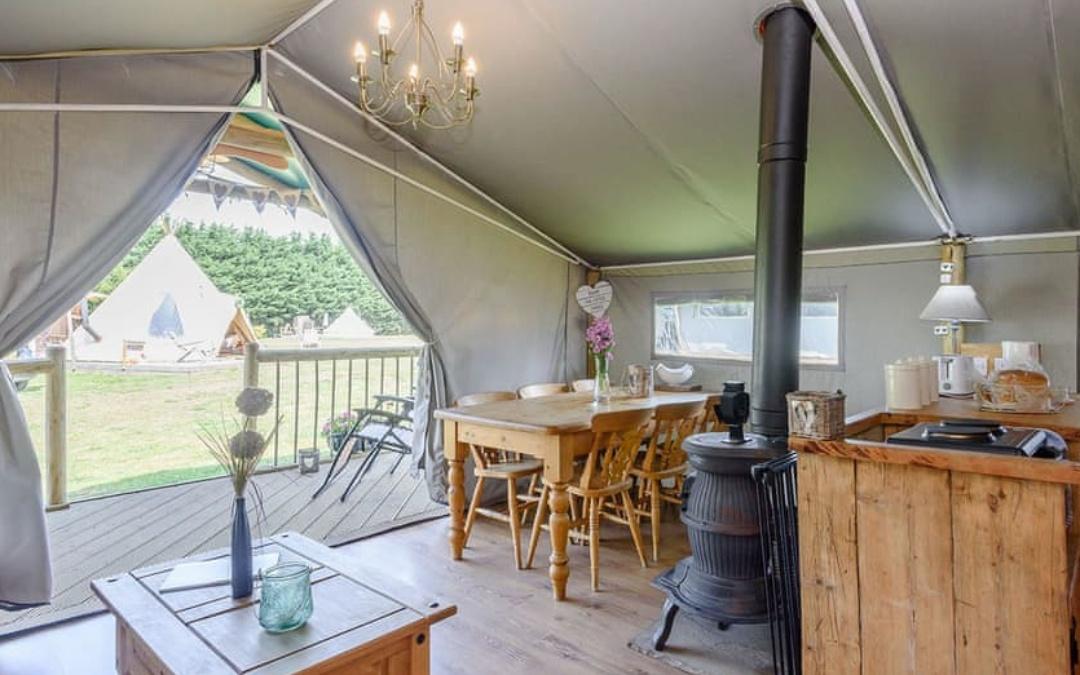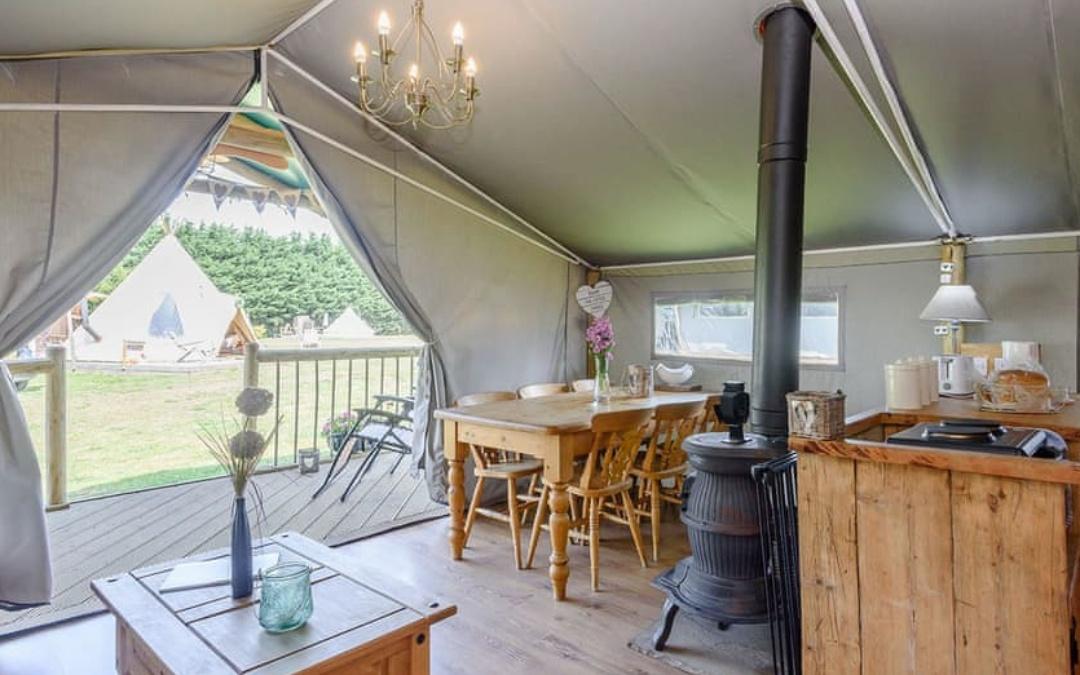 As the popularity of camping continues to grow, a new trend has emerged in the outdoor world – Glamping. Glamping is a blending of "glamorous" and "camping," and refers to camping in opulent accommodations, as opposed to roughing it in a tent. While some might think that glamping is nothing more than a fad, the benefits of this unique form of camping are many. 
For starters, glamping allows campers to enjoy the great outdoors while still enjoying the comforts of home. Glamping accommodations come with tasteful textiles, comfy real beds, a kitchen and an outside shower. 'Glamp-grounds' can offer campers everything they need to relax and recharge. What's more, glamping is perfect for those who want to try camping for the first time. Enjoy all the outdoor adventures that camping offers, with all your home comforts.
Camping can be a fun and affordable way to spend time with friends and family. However, for some people, the thought of roughing it in a tent is less than appealing. Glamping, or glamorous camping, is a way to enjoy all the perks of camping while still enjoying some creature comforts. Here are a few tips to help make your glamping trip a success.
First, decide what kind of glamping experience you want. There are many options available, from basic blank canvas Bell Tents with no amenities to opulent Safari Tents & Yurts with all the options you'd expect like warm cosy fires, soft textiles and fancy touches. 
Next, choose your perfect location in Norfolk, maybe you'd like to spend time on the coast at one of our many mYminiBreak Norfolk Glamping Sites, where you can enjoy magnificent sunsets over the sea, watersports and traditional market towns. Or maybe you'd prefer something a little wilder, a Glamping Stay at our Go Wild Glamping site near Thetford Forest, perfect for woodland cycle rides and really getting back to nature.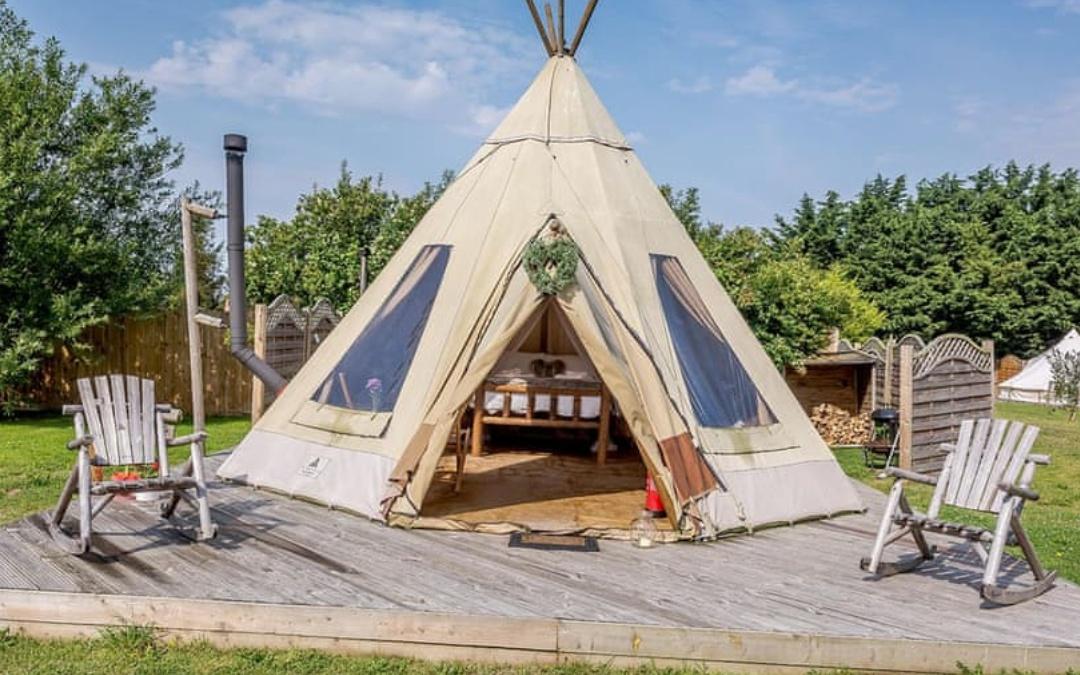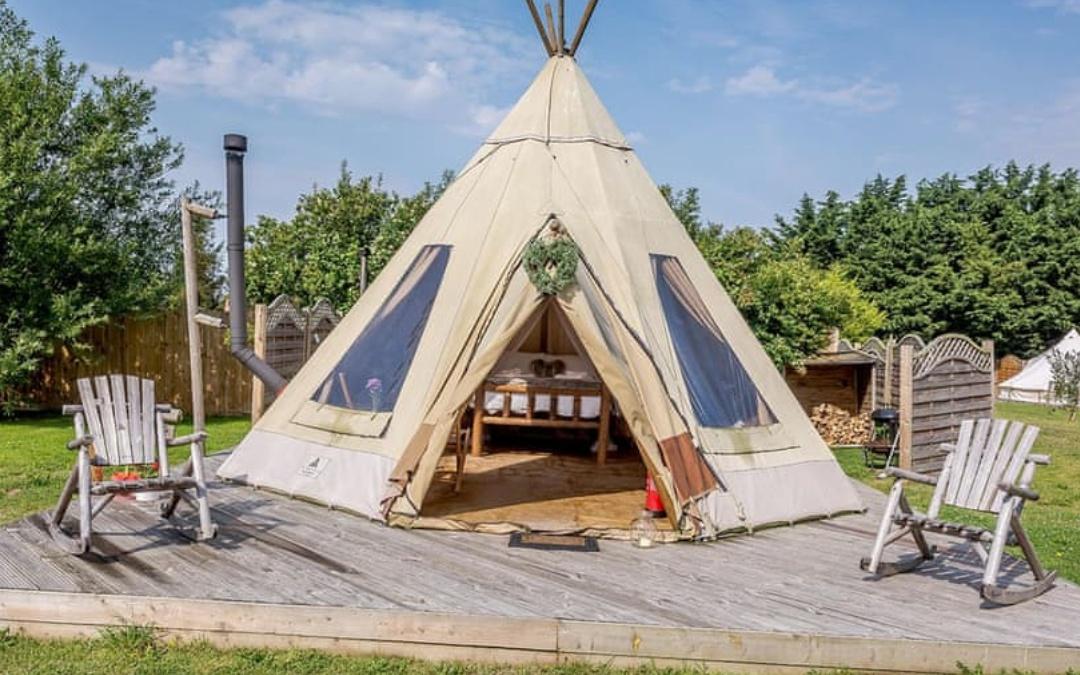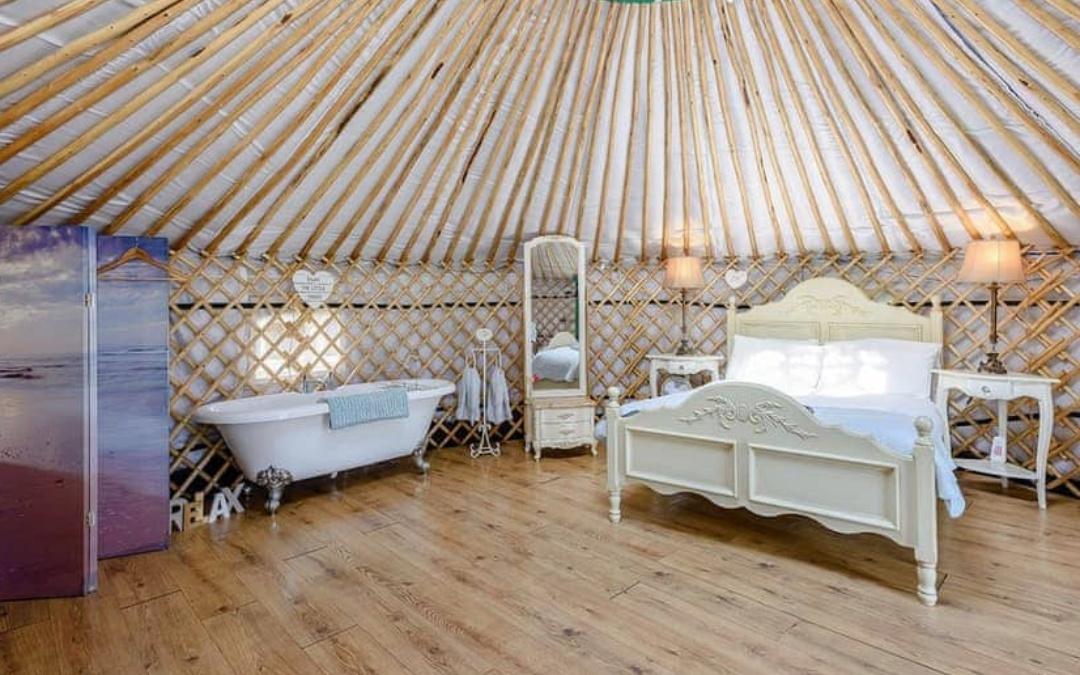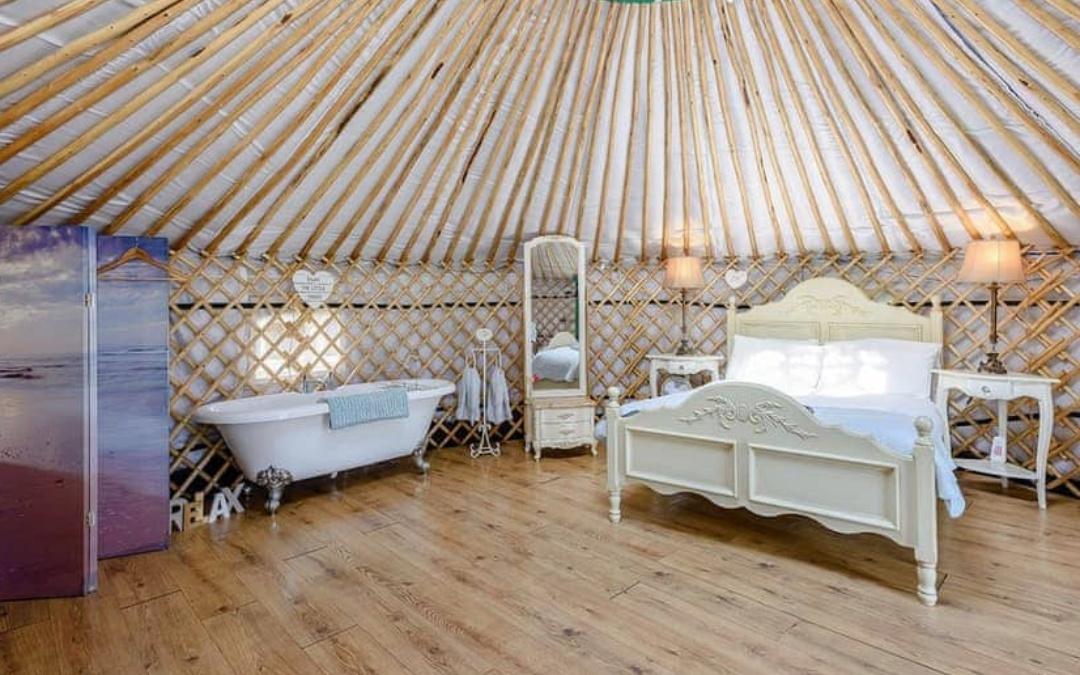 If you're looking for a unique Glamping experience, look no further than mYminiBreak Norfolk Glamping. Nestled among the picturesque Norfolk countryside, our mYminiBreak Glamping sites offer all the convenience and comforts of home while still providing an outdoor camping experience. Many of our mYminiBreak Glamping sites boast amenities like wood burner Safari Tents, with en suite bathrooms, and gourmet food options, ensuring that your stay will be a comfortable and memorable one.
So if you're looking to escape the hustle and bustle of everyday life and enjoy some peace and quiet in the great outdoors, consider booking a stay at one of our mYminiBreak Glamping sites in Norfolk. 
Why go Glamping in Norfolk?
Norfolk is the perfect destination for a glamping getaway. With its miles of stunning coastline, wild forests, and open meadows, there are plenty of natural wonders to explore. Norfolk has plenty of independent restaurants, shops, and cultural attractions to keep you busy during your stay. Here are just a few reasons why you should consider glamping in at mYminiBreak Norfolk Glamping.
Norfolk is home to some of the best beaches in the country. We have wide sandy beaches at Heacham South Beach, Old Hunstanton, and Holme Beach, where you can watch a stunning sunset over the sea on the East Coast. Cromer, Hunstanton & Sherringham have cliffed beaches, crammed full of ancient fossils and crystallised rocks, go digging for treasure and see what historical artefacts you can find. There really is something for everyone. With the North sea on one side and Norfolk's beautiful countryside on the other, there are plenty of opportunities for water sports, fishing, hiking, and cycling. 
Another reason to visit Norfolk, England is its rich history:
Norfolk is known for its rich history and stunning coastline. The county has been inhabited since prehistoric times and has a wealth of historical sites to explore. From castles to churches, roman remains to fossil hunting on the beach, there is something for everyone making it the perfect destination for a summer holiday. 
Things to See & Do in Norfolk
Watch a Sunset Over The Sea
All along the Norfolk Coast, there are vast sandy beaches, epic cliffs, sand dunes and so much more. In a few special locations, the coast faces West, such as in Heacham, Hunstanton and Brancaster. On these beautiful beaches, you are treated to the most stunning sunsets over the sea. Outside of Cornwall and Wales, there are few places to enjoy such a spectacular view, this is an opportunity not to be missed.
Walk The Peddars Way
Norfolk has two Long Distance Linear Walking Routes, one being The Peddars Way, starting in Knittishall Heath in Thetford and ending on the Norfolk Coast at Holme-next-the-Sea. 46 miles of undulating countryside, stunning wildlife and historical sites. You May want to hike the whole route or explore one of the many shorter circular routes along the way.
Cycle in Thetford Forest
Thetford forest is a vast woodland full of exciting fauna and fungi, the ideal place to really get back to nature. Explore off the beaten track and get lost in the wild! A great way to see more of the forest and to keep fit is to strap on your helmet and cycle, with many routes of all difficulties to choose from you will have a great day out, there is also an excellent bike hire service for the spontaneous adventurer.
Seal Safari In Blakeney Point
Norfolk is treated to a spectacular sight every year when the Common Grey Seals and the Harbour Seals visit us all along our dynamic coastline. Some of the best places to spot our seals are in Winterton, Horsey Gap and Blakeney Point. There are many boat trips and safaris that take you up close to see the seals basking on the shores, with their cubs. Be sure to keep a safe distance if you visit on foot.
Our Nature Saving Pledge
Clean Norfolk Glamping
mYminiBreak Norfolk Glamping is all about spending time with your loved ones and reconnecting with nature. And we want nothing more than to share this wonderful part of Norfolk with you and all that nature has to enjoy.
Here at mYminiBreak Norfolk Glamping, we are committed to respecting the countryside and keeping it clean. We operate under and encourage a leave-no-trace ethos to all our guests, which means that when visiting the countryside you leave no trace of your visit to our Norfolk glamping site and leave it exactly in the state it was when you arrived. It's this way of thinking that we hope to imprint on all who pass through our corner of the world which will help to ensure the protection of our precious countryside and the wildlife that live here.
The Countryside Code
The Countryside Code is supported by Natural England.
Protect The Environment
Take your litter home – leave no trace of your visit
Do not light fires and only have BBQs where signs say you can
Always keep dogs under control and insight
Dog poo – bag it and bin it – any public waste bin will do
Care for nature – do not cause damage or disturbance
Enjoy The Outdoors
Check your route and local conditions
Plan your adventure – know what to expect and what you can do
Enjoy your visit, have fun, make a memory
Leave No Trace
Plan ahead and prepare
Be Considerate of others
Respect Farm animals and wildlife
Travel and camp on durable ground
Leave what you find
Dispose of waste properly
Minimise the effects of fire
The Seashore Code
Show Respect For Seashore Creatures
Seashore creatures are fascinating and have found special ways of living in their environment. They have to adapt to survive the rigours of wave-action, exposure and predation. Some have shells for protection, but many need to hide under rocks, seaweed or in the sand.
Exploring The Seashore Is Fun, But Please Remember:
Leave animals where you find them.
Take care when touching soft-bodied animals - they are very delicate.
Carefully lift and replace any rocks you may have moved - there are animals underneath which need them for shelter.
Leave attached seaweed in place - there is plenty lying loose on the strand line.
Do not trample through rock pools.
Take Photos, Not Living Animals
Shells come in all shapes, sizes and colours. Many still contain living animals, even if they do look 'dead'. If you want to collect shells, please make sure they are empty before taking them home.
If you want to buy a souvenir:
Buy a photograph, book or poster of colourful marine creatures rather than shells, coral, starfish and urchins or other 'marine curios'. Remember 'curios' would almost certainly have been alive, when collected. If we don't buy them, the shops won't sell them.
Avoid Disturbing Wildlife
You can see many animals at their best when they are behaving naturally. This is true for animals such as seals, otters and seabirds, as well as rock pool animals. To avoid disturbing wildlife:
It is best to watch from a distance, through binoculars if possible, especially if the animals are nesting, or pupping in the case of seals.
Keep your dog clear of birds and other animals.
Remember, it is now illegal to disturb or harass many species of birds and animals.
Take Your Rubbish Home With You
Beach rubbish is unsightly and can be dangerous to sea creatures. Much of the litter on our shores comes from tourists, shipping, fishing vessels and sewage outfalls. You can help to reduce this problem when visiting the coast:
Take your rubbish home - burying it is no solution.
Keep your dog from fouling the beach.
Report canisters or drums that may be washed up on the beach, but do not touch them.
Take part in BeachWatch - the annual beach clean and survey organised by the Marine Conservation Society, or Adopt-a-Beach - a regular survey of beach litter.
Bag It and Bin It, Please Don't Flush It - bag and bin all plastic bathroom waste such as cotton bud sticks.
Watch Where You Go
Beaches and sand dunes are prone to erosion and easily damaged by people and vehicles. To help protect the coast:
Keep to established paths and dune boardwalks.
Park in designated car parks and keep access to footpaths clear.
Do not use beaches or dunes for scrambling motorcycles or other 'off-road' vehicles.
If you dig holes in the beach, please fill them up again.
Leave pebbles and rocks on the beach rather than collect them for your garden.
Be Careful!
All cliffs are unstable and potentially dangerous, yet they are an impressive sight and from the cliff top it is possible to enjoy a panoramic view of the coastline. Cliffs also provide a very specialised habitat for the plants and animals that live on them.
Take Care Near Cliffs:
Remember that it is dangerous to climb up or go near the top or bottom of a cliff.
Please don't throw or push anything over the edge of cliffs. As well as being dangerous, it can increase the rate of cliff erosion and kill or disturb wildlife.
Play safe on the beach too: Check tide times to avoid being cut off. Keep away from soft sand and mud - it is easy to get stuck!
Norfolk Glamping Local Area
Activities
---
The Norfolk coast is home to a plethora of wildlife, the perfect location for spotting Grey Seals on the beach. Hunstanton, Blanekey and Winterton are a few great spots for seal spotting, and offer trips out into the sea for a Seal Safari.
Take a trip to Holkham Hall and stroll among the wild deer, ride a peddlow over the lake or ride your bikes along one of the many cycle paths. Take a tour around the house and find out more about what makes Holkham so Special.
Head to Thetford Forest for a woodland adventure both on the ground and in the trees on their Go Ape Tree Top Trail. Explore the many hiking and biking paths through some of the most stunning woodlands in Norfolk. High lodge is home to a magnificent outside play park suitable for kids and adults alike, follow the Gruffalo trail and find his hiding spot.
Here at mYminiBreak we are also proud to be neighbours with Wild Ken Hill, a rewilding project focusing on returning 1500 acres of Norfolk Countryside back to nature to let it become wild once again. Have the most unique experience where you are able to view populations of many different wild animals such as ponies, beavers, cattle, wild boar, kites, owls, bats and more.
There are many beautiful coastal routes to explore in Norfolk, The Norfolk Coast Path starts in Hunstanton and offers 84 miles of stunning scenery all the way to Sea Pailing. The Peddars Way was once walked by the Romans, providing a direct route from Thetford Forest to the Coast. The Peddars Way joins the Norfolk Coast Path at Holme-next-the-Sea, making for an epic Long Distance Trail. 
Brave The Wash and hire a Paddle Board or a Kayak. Hunstanton Watersports has a great range on offer. It's the perfect activity for enjoying a sunset over the sea. Surfing lessons are available in Cromer and there are many Boat Excursions along the Coast. Take a vintage steam train ride on the North Norfolk Railway in Sheringham.
Visit one of our many estates & gardens, Sandringham, Oxborough or Holkham Hall. Go wild in Thetford Forest or take a gentle stroll down Cromer Pier and watch a fantastic theatre performance, stopping by the quaint town of Sheringham for something delicious to eat. There really is something for everyone here on the Norfolk Coast
Here in Norfolk, we have some amazing places to enjoy a meal or a few drinks, from the stylish Liquor & Loaded in Kings Lynn, with their unique interior, awesome customer service, killer cocktails, and loaded meat trays, you won't be disappointed.
If you have your four-legged friend staying with you then The Doggie Diner in Cromer is a great choice, with meals for you and your dog, what a treat!
The Cheers Restaurant in Thetford is a different concept of dining, it's a unique style restaurant, with our Popular Steak on a Hot Stone, cooking your steak to your own liking. The goal of Cheers is to make every guest experience a great and exciting one and to serve good quality food.
Marmalades Bistro Sherringham has been a popular restaurant for both locals and visitors for over 15 years. Marmalades offer a delightful mix of classic British food.
The Dabbling Duck Massingham stands proudly in the middle of the village of Great Massingham, surrounded by fields but only a short drive from the stunning North Norfolk coast, The Dabbling Duck is the picture of the best of British country pubs.
The Orange Tree Thornham one of the top-rated restaurants in Norfolk, you will be treated to an amazing choice of dishes made with locally sourced ingredients.
Instead of Norfolk Glamping
If Norfolk Glamping did not interest you, check out our alternatives!
mYminibreak
---
Our venue offers a range of Cottages, Chalets and Glamping accommodations to suit all budgets, perfect for a quick break
Norfolk Coast B&B Cottages & Camping LLP - OC401422
Registered Address: 82A James Carter Road, Mildenhall, Suffolk, IP28 7DE
Opening hours
---
Office:
Monday to Sunday - 9am to 5pm

Online Bookings:
Monday to Sunday - 24hrs