Fantastic Family Days Out
Getting together for good times
From here in Kings Lynn all the way to Great Yarmouth, the Norfolk Coast offers many great attractions for the whole family to get together and have some fun, making amazing memories that'll last forever.
From Beachcombing to Castles to Fair Grounds, we have something to keep everyone happy, read on for a comprehensive list of things to do while holidaying with us here on the Norfolk Coast.
Beaches - If there is one thing Norfolk is good for is its beaches, we have 84 miles of coastline! If you would like open soft golden sand and dunes head to Holkham, Burnham Ovary Staithe or Wells-Next-The-Sea. For beachcombing, fossilising and rock pooling you'll want Heacham, Hunstanton, West Runcton. For cliffs & lighthouses, it's Hunstanton, Cromer & Happisburgh. All of our beaches are easily accessible via the Coast Road & Coast Hopper Bus service.
Trips & Tours - Here in Hunstanton have the famous award-winning Wash Monster! Searles Sea Tours run unique and exciting seal safaris and coastal trips aboard The Wash Monsters. Each tour provides a truly fascinating and fun way of discovering the local seal population, coastal areas with panoramic views as well as learning of local history and fascinating legends around The Wash. For one of the best places in the UK to views our ever-growing seal population you need to head to the small harbour town of Blakeney, here there are daily excursions to Blakeney Point where you will have an unforgettable experience seal spotting.
Woodland Walks - Norfolk isn't all sand & sea, we also have some amazing woodlands, so grab your boots and get out and explore our wilderness. Just up the road from us is Wild Ken Hill, here they are introducing animals back to the wild, fighting climate change and educating people on how to exist in harmony with nature. on your walk, you may even spot a few wild ponies and pigs. Between Burnham Ovary Staithe and Wells-Next-The-Sea you have the Pinewoods, miles of twisting sea pine trees that hug the coastline, they make for an epic escape for the family to run wild in the woods.
Fairgrounds & Amusements - What is a trip to the seaside without a funfair ride and a go on the 2p machines? Just a few miles from us is the quaint seaside town of Hunstanton, here you will find Rainbow Amusements Park, stuffed full of thrill rides and arcade amusements, candy floss and prizes, fun for the entire family. 
Watersports - Our beach is in The Wash, a long shallow calm bay that is perfect for watersports. Bring your own paddleboard, kite suffer or jetski and enjoy being out on the sea. Alternatively, head down to Hunstanton Watersports where you can take lessons and hire anything you need to get out on the water for some epic family fun.
Farm Parks - Close to us is Snettisham Park a 329-acre working farm. In spring you will see lambs being born, they have a spectacular 45-minute deer safari where you will meet a magnificent red deer herd. You can bottle-feed lambs, collect fresh farm eggs and ride ponies as well as take a walk on one of three wonderful trails. Around the corner at Norfolk Lavender there is a little Animal Garden full of all the farm favourites and also has a play park for the kids. 
Swimming - Of course, we have the open ocean, but if the North Sea is a little nippy for you then head over to Oasis Alive in Hunstanton, a seafront leisure centre in Hunstanton offering a leisure pool with a flume, a fully equipped gym, fitness classes, indoor bowls, squash, roller skating, Alive Adventures and Alive Bites cafe.
Historical - There are so many places to mention, check out English Heritage for the best information available. Locally we have Castle Rising, one of the largest, best preserved and most lavishly decorated keeps in England, surrounded by 20 acres of mighty earthworks, kids will have such fun exploring the grounds. Hunstanton has the legend of the Wolf King, head up towards the lighthouse to find out for yourself how St Edmund got this ominous name..
Adventure - Close to us in West Norfolk we have The Rainbow Park Amusements in Hunstanton. Further afield we have Pleaurewood Hills Theme Park in Great Yarmouth, with rides for little kids and thrill-seekers alike! Norwich is home to Roarr! Dinosaur Adventure, whatever the weather, there are digs to be dug, dinos to discover and adventure around every corner.
Treasure Trails - The Wolf Trail in Hunstanton follows the tale of our most famous visitor, explore the gardens and clifftop scenery to trace the story of St Edmund, Hunstanton's most famous visitor and first patron saint of England. The story and legend of St Edmund, Hunstanton's most famous visitor can now be explored by a series of waymarkers that lead you from the cenotaph in the clifftop gardens to the dramatic clifftop location of St Edmund's chapel.
Soft Play - Farmer Freds Adventure Play Barn here in Heacham is the place to go, with lots of fun to be had, great food and some local shops next door for Mum & Dad to browse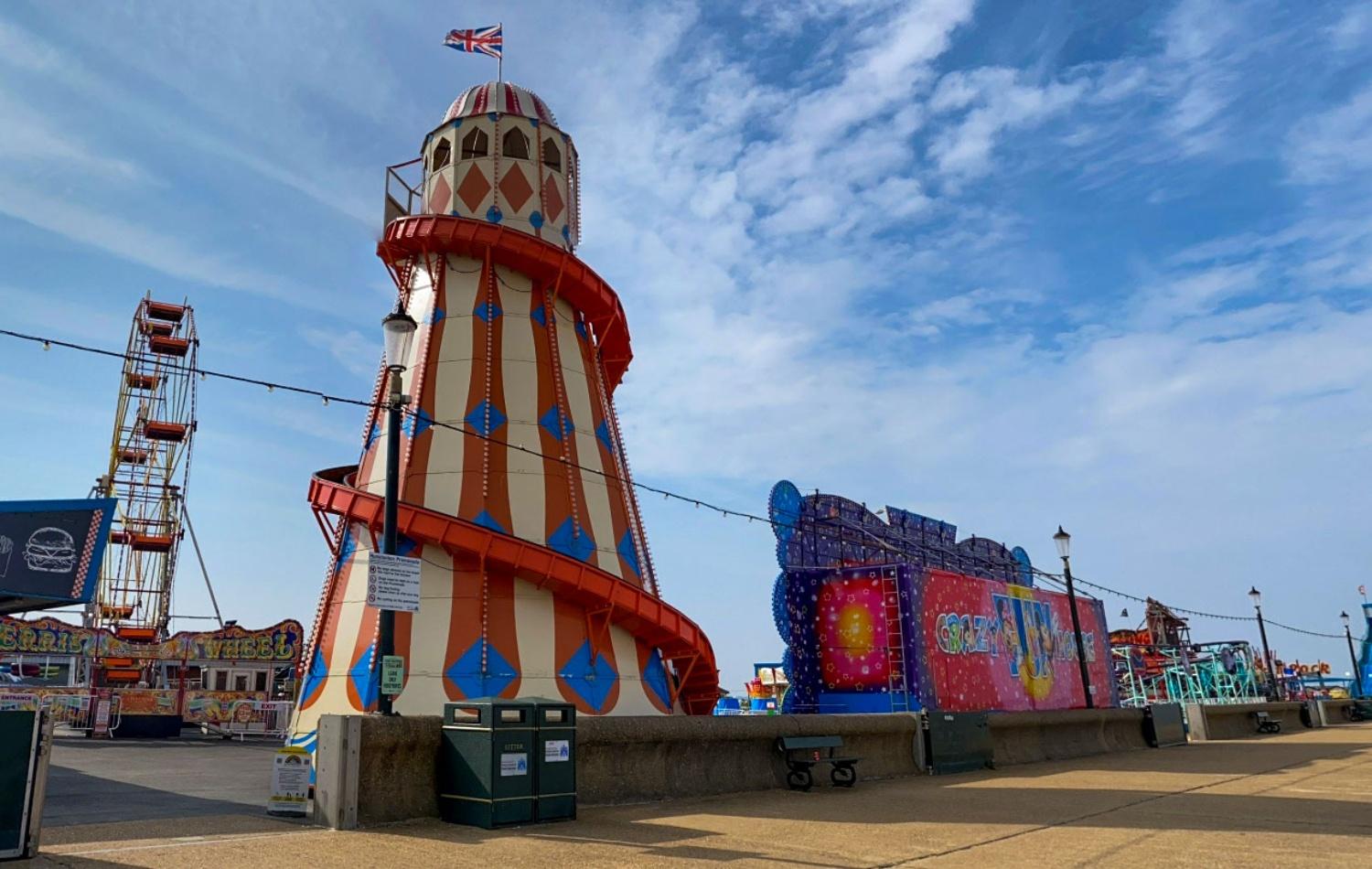 The Helter Skelter in Hunstanton
---
LATEST BLOGS