Glamping Hunstanton encompasses everything we offer here on the Norfolk Coast, it combines our outdoorsy Hunstanton Camping and our B&B Cottages and what you get is a back to nature experience that allows you to enjoy the outside together will all the home comforts of a B&B. Glamping Hunstanton also offers little extras, like an outside firepit and BBQ, seaside deck chair seating and a kitchenette just for Glampers. All this just 3 minutes from the beach!
Glamping Hunstanton is located on the west coast of Norfolk, which means you will be treated to a glorious sunset over the sea in the evenings, and if you're up early enough, there are spots in Hunstanton where you can watch the sunrise and set over the same horizon, it is a very unique experience.
Glamping Hunstanton is conveniently located to explore the Norfolk Coast and its local attractions. Just down the road from Glamping Hunstanton, you will find a public footpath that takes you on a scenic nature-filled stroll all the way to Snettisham, a quaint, history-rich village. The seaside town of  Hunstanton is a glorious walk along the promenade from us, taking in a vast open view of the sky and sea along the way.
Glamping Hunstanton is unique in that is just a 3-minute walk away from the beach, a short drive to the seaside town of Hunstanton and surrounded by nature reserves, including the BBC Springwatch Wild Ken Hill. The Ken Hill Sanctuary can be seen from the Glamping Hunstanton Shepherds Huts and Bells Tents. Our views are amazing, our skies huge, vast and star-filled in the evening, we are camp fire and dog friendly and are ideally located for the Norfolk coast path and local hiking walks.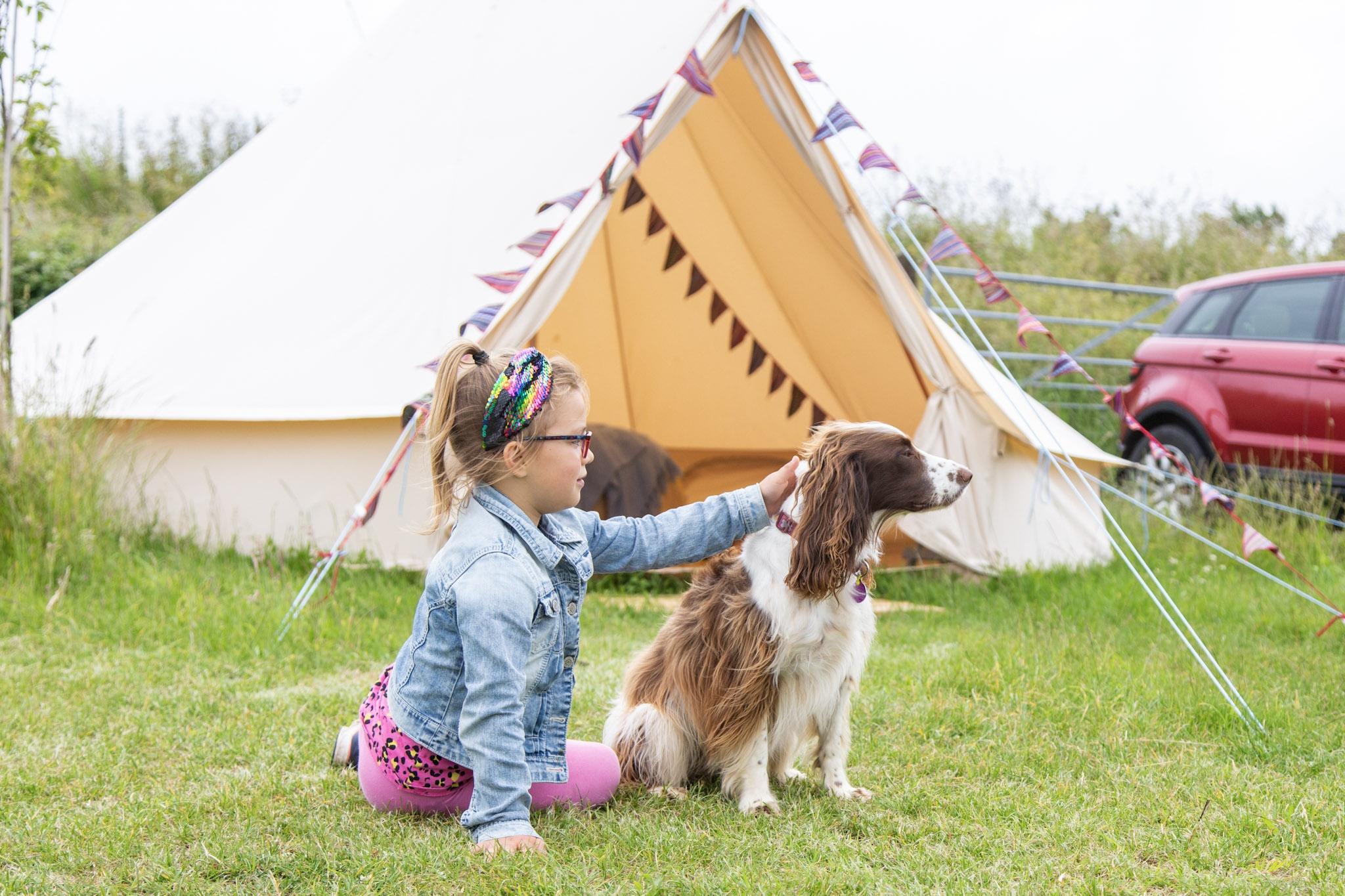 There are many places to visit and things to do while staying with us here at Glamping Hunstanton, you will be truly spoilt for choice! We have compiled a list of some highlights that we think you'll not want to miss, read our blog to find out what adventures wait for you here on the Norfolk Coast.
Glamping Hunstanton also accommodates groups, we have Blank Canvas Bell Tents, pre-pitched for you and your friends to fill with all of your camping gear, for an unforgettable get-together under the stars. Find out more below...
Glamping Hunstanton Shepherds Huts
Our lovingly restored Glamping Hunstanton Shepherds Huts are perfect for those wishing to have a chic little cabin all to themselves, thoughtfully decorated in a country-style theme with cosy textiles and all the bits and bibs you need to have a break away from the rest of the world and immerse yourself in countryside living. Hunstanton Glamping Shepherds Huts are located in our best plot with unbroken views out across the Norfolk Marshes, a prime spot for catching a glimpse of our local birds of prey, many deer, hares and other birds. Sitting in the evening around your firepit, with a glass of wine or hot chocolate, you will forget all of your worries! The peace and tranquillity that Glamping Hunstanton offers will give you the relaxing break away that you know you deserve.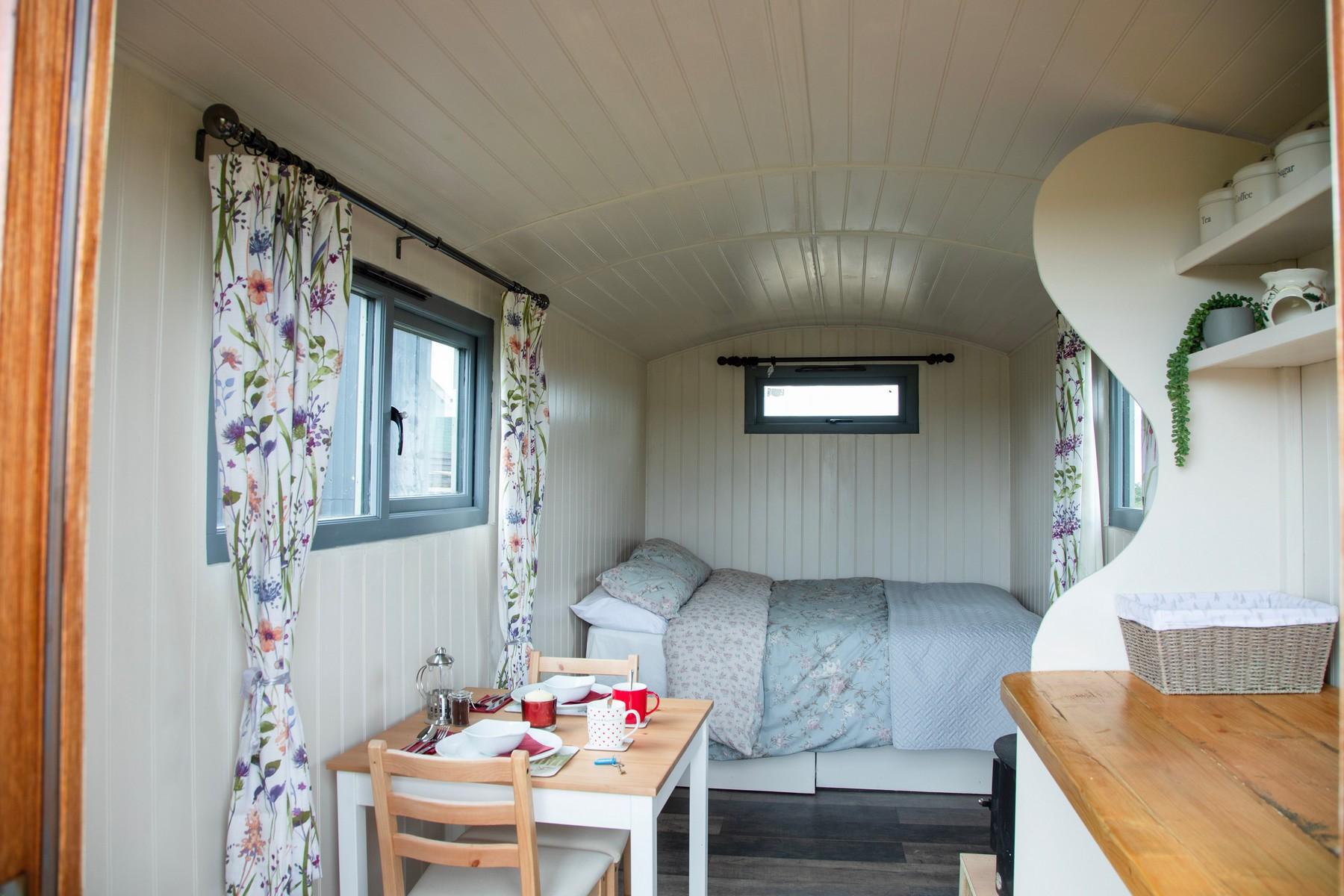 Glamping Hunstanton Canvas Bell Tents
Our quality canvas Glamping Hunstanton Bell Tents are decked out in ethnic textiles to give the experience of sleeping in an authentic Saharan Sand Tent. You will be treated to all the delights of Glamping in our Glamping Huntanton Bell Tents, with a big double bed, chic blankets, rugs and decoration. Once you are zipped up at night time, listening to the sounds of nature, you will be whisked away to another place far from the hustle and bustle of daily life. Hunstanton Glamping Bell Tents come with picnic baskets, basic cooking equipment and thoughtful touches such as lamps and fairy lights to elevate your Glamping Hunstanton experience. Outside are seaside deckchairs for getting warm and cooking around your own open campfire and BBQ. Our vast open starry skies will provide all the entertainment you need while you relax looking out over the nature-filled meadows.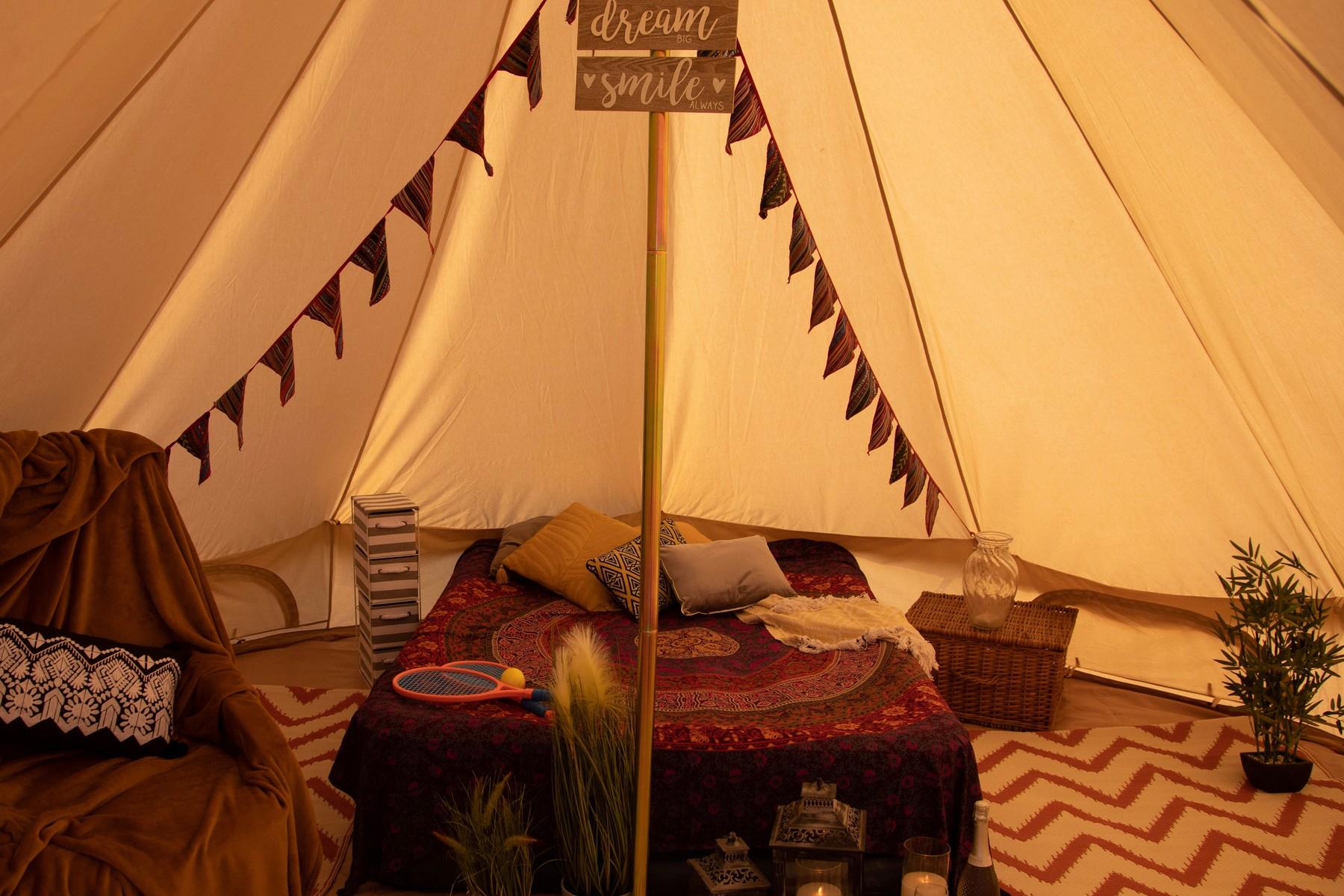 Glamping Hunstanton Blank Canvas Bell Tent
Glamping Hunstanton is welcoming of group bookings, so get you and a few of your friends together, pack up the car and head down to Glamping Hunstanton to your pre-pitched blank canvas bell tent for a few nights of fun and frolics by the beach! Glamping Hunstanton Blank Canvas Bell Tents will be pre-pitched for your group, if you need more than one they will be all together for you to be close by and socialise as a group with a shared fire pit. Take all the fuss of pitching your own tent, worrying about who will sleep where and try our Blank Canvas Bell Tents! Our beach is just a few minutes' walk away and is perfect for watersports, so bring the paddleboards, the windsurf board or just your feet for a paddle. The Coast Path is also right by us so why not organise a hiking trip or bike ride? We can help with both the planning and logistics of your group gathering.